Hello! This post was in my draft for ages and I totally forgot to update and publish it 😅
Right before landing at the airport 💓
We arrived at Incheon International Airport in the morning at around 11am. First thing after we reached was to pick up our wifi egg that I booked through Klook! Rental is calculated per day for RM9. You can book through
this link
. If you're a first time user, register
here
for a discount off your first booking.
Then, we headed to our Airbnb which is located near Dongdaemun History and Culture Park Station and Dongguk University Station. I love how convenient it is because it is located right between both the stations!
I blogged about our room
here
.
First destination is of course lunch! I wanted to have something daebak as our first meal lolol so we went to a restaurant selling seafood noodles at Sinchon as we're going to shop there later.
The restaurant's name is
신촌해물칼국수 (Sinchon Seafood Knife Cut Noodles),
I found this restaurant through
this blog
which is written in Chinese, go read if you're interested.
Pardon my horrible skills I was too hungry to take proper pics hahaha
This is the Ginseng Chicken Soup (Samgyetang) but's it is black. It's because they used black glutinous rice to replace the normal glutinous rice that's stuffed inside the chicken.
Yumms!
This is the seafood soup. Look at how generous they are!
After all the seafood was cooked, we added the kalguksu (noodles) into the soup. Perfect first meal in Korea 😋
I forgot what the total amount is, but it didn't exceed ₩10,000 per person, which is consider cheap in Seoul especially as we had seafood.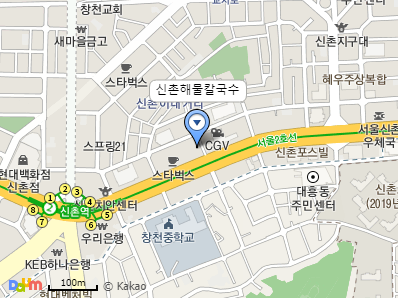 신촌해물칼국수
Address: 서울특별시 서대문구 신촌로 125 2층
Phone number: 02-363-1553
Opening hours: Daily 11:30-23:00
Sinchon Station, Line 2, Exit 4, walk for 3 minutes.
After lunch, we headed to Ewha Womans University. The university is famous for its beautiful European styled buildings. Jealous die me why isn't local universities in Msia like that?!
And this is the famous canyon thingy in the middle. So many people cos it was a weekend.
After strolling in the university, we continued shopping.
Actually, before we managed to enter the university itself, we were distracted by the shops outside and shopped for some time before we reached the uni's gate lolol!
With Brown at the Line Friends Store at Sinchon / Ewha area.
Luckily I took this picture with Brown cos a few days later when I went to Myeongdong, the line to take pics was super loooong.

OOTD
MNG Black Turtleneck
Uniqlo Women Velour Camisole Dress
Shoes from Taiwan

The weather was just perfect, no need for coats when the sun was out.
Hiya Brown 😀
Screenshotted this from my highlights lol. Paik's Coffee is famous for their huge cups and affordable beverages. They have stores everywhere in Seoul. They also have tons of choices but I ordered Paik's Ccino with Soft Serve cos I was craving for coffee. The cup is huge but only costed ₩3500! Cheap and yummy 😋
Then, we went on shopping on the shopping street.
I would advise not to buy too much at this area cos the price mainly starts from ₩10,000 which is around RM 37 for a piece of clothes. We mainly bought cosmetics and skincare there as the staff speaks Mandarin and was friendly enough to give us lots of samples.
Prices at Goto Mall is much more cheaper and affordable for clothing and shoes! It's so cheap we went there twice wth.
At night, we went to the Namsan Tower. Tickets can be bought at Klook or through the ticketing counter. The night view of Seoul was amazing!
I look horrible and so do the green tower behind lol. Macam ghost movie hahahaa
Idk why but when we went, there were tons of people heading up through the cable car. So when it was time to return, we took a bus back. And it stopped right at Dongguk University Station which was near our Airbnb. So convenient I like!
Well, that's all for my first day in Seoul! Stay tuned for more. I promise I won't procrastinate and update asap 😉
Till then xx