Haven't been blogging in a while, house wifi is quite slow lol! Am back to uni so hopefully won't be swamped by assignments *fingers crossed*
Hong Kong trip was almost 2 months ago and I have not finish blogging about it fml.


Heard about 澳洲牛奶公司 Australian Dairy Company from a friend so decided to give it a try! Went to this 茶餐厅 before we went to Disneyland although it's so out of the way lolol
One thing about chaar chan teng in HK is the attitude of the waiters and waitresses. They tend to be very sarcastic and rude, so please plan ahead what do you want to order and order it quickly.
Here's the menu on the wall.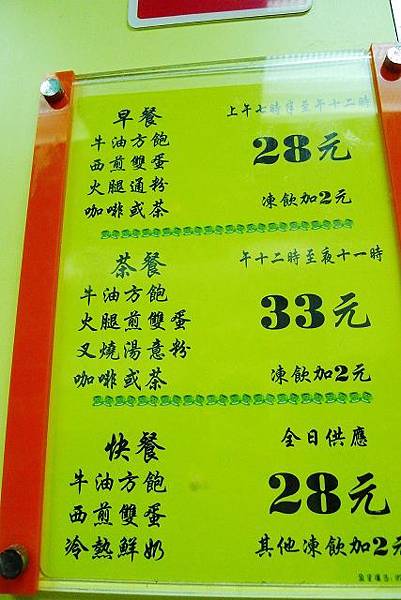 For breakfast,
Toast with butter
Eggs
Macaroni with shredded ham
Coffee or tea (cold add HKD 2)
HKD 28
So cheap right!!
We ordered 2 of the sets and for eggs we chose scrambled, coz the scrambled eggs is what they're famous for!
Macaroni with shredded ham.
Mommy did not like it very much as she said it reminded her of her childhood sick food lol. But for me it is good! Maybe because its my first time tasting this hehe
Toast and Scrambled Eggs
MY GOSH. HEAVEN.
So fluffy and soft yet so delectable! This is the bomb I tell you. The most yummiest scrambled eggs I've ever had.
Another pic of the heavenly scrambled eggs!
Steamed Egg White and Milk Pudding HKD 23
This is also a must order! I normally dislike milk, but this pudding is so smooth and silky, and the milk-egg white combination is seriously daebak haha! Cold and yummy, perfect for the hot weather. There's a hot version for this pudding too, if you prefer hot dessert.
Simple but yummy, our breakfast was a blast despite the rush and chaos and sharing tables with a pretty girl in the cafe.
The queue is normally long in the peak hours, but don't worry as the staff are very efficient and you'll be seated as soon as there's place available. Be prepared to share your table with strangers. We were in a long queue for about 10-15 minutes before we were seated. And once you've finished eating you'll be ushered to pay haha! Everything is very fast paced, true to the nature of Hong Kong.
澳洲牛奶公司 Australian Dairy Company
Exit C2 Jordan MTR
G/F, 47-49 Parkes Street, Jordan
佐敦白加士街47-49號地下
Hope you've enjoy this post, I'll try my very best to blog more and be more committed to blogging!
Till then xx