Typing the title for this post is a torture, it makes me miss Hong Kong delicacies even more TT But I very 好心 wanna share with you all the HK local delicacies HAHAHA *smirks* more like making everybody hungry reading my post la wtf
The 2nd day in Hong Kong, we went for breakfast at this shop named 富記粥品 located at Mongkok. It took us ages to find the shop as the streets in HK are super longggg you cannot imagine.
I was like, whaaat? Why end of the road still cannot find the shop?! Asked some locals and found out that the road continues on the opposite side wtf. Okay obviously this pic was taken at night, just to show you guys an example of how long the street is.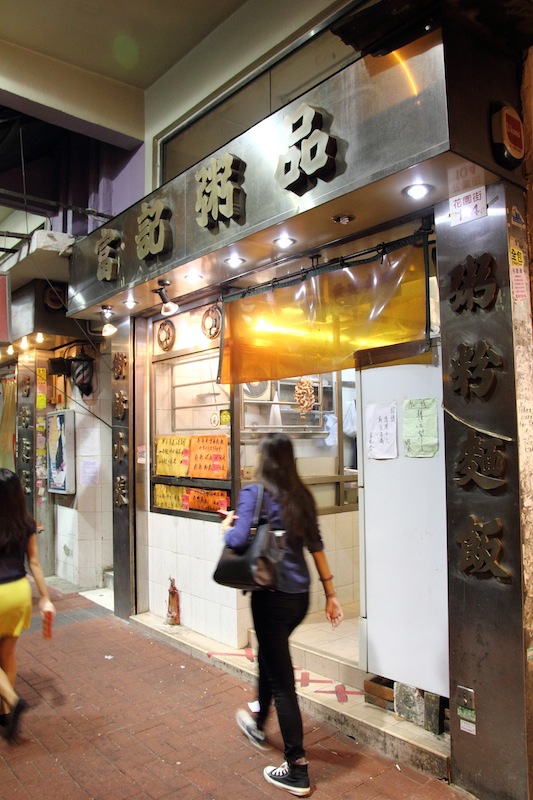 Picture taken from the web.
皮蛋牛肉粥 Century Egg and Beef Congee
HKD 32
粉肠猪肉粥 Intestine Pork Congee
HKD 32
The second congee was customized coz I don't eat pork liver heehee. I was pleasantly surprised by the silky smooth texture of the Guang Dong congee (廣東粥), very flavorful and delicious! The beef and pork slices in both the congees was tender and succulent, and the portion is quite a lot.
鲜虾肠 Shrimp Rice Rolls
The rice rolls (chee cheong fun) were somewhat different from what we have in Malaysia. It's a little thicker and of course bigger in size. The prawns inside were super big! They are very generous with the ingredients I tell you. Not the teeny weeny baby prawns like Msia lol.
Our fulfiling breakfast yums!
In fact, the food impressed us so much that we decided to go there for dinner also HAHAHA
烧鹅叉烧饭 Barbecued Pork and Roasted Goose Rice
HKD 32
See liao also damn syiok eh this rice. The roasted goose is so good! Juicy and tender with the crispy skin. The char siew is also tasty but its quite oily la haha! Just that the rice is a bit dry. Oh and the sauce is plum sauce, taste quite good with the meat too!
咖哩牛肉饭 Curry Beef Rice
(sorry forgotten the price hehe)
The curry rice is also tasty but I personally don't like the green pepper. Nothing much about this, shoulda order the congee again lol.
104-106 Fa Yuen Street Mong Kok.
Thats all for this post! I guess if you've read my first post you will realize by now that my HK posts will be by places and not by days. I don't want my posts to be long coz it will take time loading, and obviously I will have more posts if I blog by places of attraction :P
Till then xx